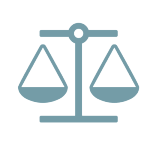 6th Circuit Affirms Dismissal of Plaintiff's FDCPA Suit over Law Firm Debt Collection Letters
The Sixth Circuit Court of Appeals affirmed the dismissal of a plaintiff's complaint after it found that the plaintiff, who alleged violations of the FDCPA by a law firm that sent him two debt collection letters, showed no injury-in-fact traceable to the defendant's challenged conduct, and therefore lacked standing to sue.
Plaintiff received the letters on law firm letterhead that included information about overdue payments plaintiff did not dispute to a credit card company. Plaintiff alleged the defendant violated the FDCPA by giving him an impression that an attorney reviewed his case and determined he owed the debts. He went on to claim that the law firm processed so many debt collection letters that the claims against him could not have been meaningfully reviewed. The plaintiff claimed defendant's letters made him anxious that he was going to face legal action, in violation of the FDCPA. The district court found the plaintiff did not have standing to sue, granted defendant's motion to dismiss for lack of subject matter jurisdiction, and in the alternative, for failure to state a claim.
A plaintiff demonstrates standing to sue in federal court by establishing that (i) it suffered a concrete injury-in-fact, (ii) the injury is traceable to the conduct of the defendant, and (iii) the injury can be redressed by a favorable judicial decision. Plaintiffs have the burden to establish these three elements by alleging facts at the pleading stage that demonstrate each element. With respect to the injury-in-fact, the plaintiff must demonstrate that the injury was concrete and particularized, as well as actual or imminent, and not abstract or hypothetical.
The Sixth Circuit affirmed the district court and found plaintiff's anxiety fell short of the injury-in-fact standing to sue requirement because plaintiff's anxiety was about something that had not yet happened and was not definitely going to happen. Thus, it was not a concrete injury as discussed by the Supreme Court in Spokeo. Further, plaintiff's claim that he was anxious about the consequences of his decision to not pay debts he did not dispute meant he failed the second standing to sue requirement because he effectively caused his own injury and could not connect that injury with the defendant's conduct.
Plaintiff argued, inter alia, that precedents in other courts in which FDCPA suits were upheld for emotional injuries to plaintiffs, e.g. for emotional distress caused by a collection suit that was time-barred when defendants filed it, should be applied here. The Sixth Circuit disagreed, and found those cases distinguishable because they did not address the lack of concrete injury as a threshold subject matter jurisdiction issue. Further, the court found those other cases established more than "bare anxiety" as the sources of plaintiffs' emotional injuries.