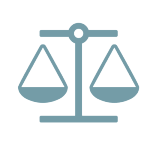 9th Circuit Panel Denies Deference to Federal Agency's Regulatory Interpretation
On September 6, 2017, a three-judge panel for the U.S. Court of Appeals for the Ninth Circuit ruled that a government agency's interpretation of a regulation was not entitled to deference.  The majority of the opinion dealt with a labor dispute in the restaurant industry and concerned agency interpretation of the Department of Labor's "80/20" tip credit rule.  The Court found that the Department's guidance was inconsistent with the underlying regulation and that the plaintiffs' stated claims were not valid as pleaded.
As background, if a statute is "silent or ambiguous as to the question at issue," the appropriate agency may resolve the ambiguity through regulations, which are entitled to deference so long as they resolve the ambiguity in a reasonable manner.  If a regulation is ambiguous, courts defer to the associated agency interpretation unless it is "plainly erroneous or inconsistent with the regulation" or the interpretation would permit the agency to create "de facto a new regulation."
In the case at bar, the plaintiffs relied on Department of Labor guidance, which interpreted an underlying regulation regarding a tip credit for workers who supposedly work in two capacities at one job.  In a similar case relied upon by the plaintiffs, Fast v. Applebee's Int'l, Inc., the Eighth Circuit found that the so-called "dual jobs" tip credit regulation was ambiguous, and deferred to the challenged agency guidance.
The Ninth Circuit, however, split with the Eighth Circuit decision and wrote that the agency's guidance was "inconsistent" with the regulation. Further, it characterized the guidance as an attempt to "create de facto a new regulation."  The opinion also criticized the Eighth Circuit's analysis for focusing too narrowly "on a few words out of context" in order to find ambiguity in the regulation, and thus, failing to independently consider whether the agency's interpretations were reasonable and consistent with the regulation.  The Court ultimately found that the agency's interpretations were not reasonable or consistent with the underlying regulation.  While largely agreeing with the district court's deference analysis, the Ninth Circuit vacated the lower court's ruling and permitted the plaintiffs to amend their complaints.
Going forward, the circuit split may influence how courts afford interpretive deference to agencies who oversee heavily-regulated industries and will likely spur additional appellate review.
The case is Marsh v. J. Alexander's LLC and the opinion is available here.