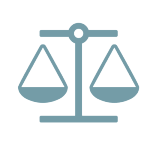 Supreme Court Denies Article III Standing Based on Risk of Future Harm
The U.S. Supreme Court recently held that only class members who suffered a concrete harm had Article III standing to sue under FCRA. The Court reversed the Ninth Circuit's decision and remanded the case based on its ruling.
In 2002, a credit reporting agency introduced a product called OFAC Name Screen Alert. OFAC is the U.S. Treasury Department's Office of Foreign Assets Control, and it maintains a list of individuals considered to be a threat to U.S. national security. This product was created to alert businesses of the possibility that they were transacting business with an individual on OFAC's list, which is generally unlawful. The credit reporting agency would place an alert on a consumer's credit report if the consumer's first and last name matched that of an individual on OFAC's list, and this alert would be available to businesses that opted into the program and pulled the consumer's credit. There were no other measures in place to verify the accuracy of this match.
The plaintiff filed a class action alleging violations under FCRA. The class consisted of 8,185 class members, but only 1,853 class members had their credit pulled. The plaintiff alleged that the credit reporting agency 1) failed to follow reasonable procedures to ensure the accuracy of the information in his credit files; 2) failed to notify him that his name was a potential match to someone on OFAC's list; and 3) failed to provide him with a summary of his rights. The district court ruled that all class members had Article III standing, and entered judgment totaling over $60 million. On appeal, the U.S. Court of Appeals for the Ninth Circuit affirmed in relevant part, but reduced the award to approximately $40 million.
The Supreme Court , applying its ruling in Spokeo, held that under Article III a plaintiff must demonstrate a concrete and particularized injury that is caused by the defendant and redressable by the courts. Traditional harms, like physical harm and monetary harm, readily qualify as concrete injuries under Article III. Some intangible harms can also qualify as concrete harms, such as those whose injuries have a close relationship to harms traditionally recognized as providing Article III standing, such as reputational harm and disclosure of private information. Article III standing does not exist when based solely on injuries in law.
The Supreme Court held that only the 1,853 class members whose credit was pulled had Article III standing. It found that their intangible harm was similar to that in a defamation suit. For those same reasons, the Court denied Article III standing to the remaining 6,332 class members because their credit had not been pulled. The Court denied those members' arguments based on risk of future harm, finding that they had not shown that any risk of future harm had materialized, or that such risk of future harm provided Article III standing for purposes of monetary relief.