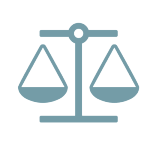 DOJ Settles Redlining Investigation and Suit with a Midwestern Bank
The Department of Justice recently announced the settlement of a suit against a Midwestern bank for "redlining" violations that affected a predominantly African American population living in the geographic area where the bank otherwise operates.
The underlying Complaint and two supporting Exhibits (viewable here and here) associated with the Settlement alleged the bank's policies and procedures deliberately denied residents in majority-African American census tracts equal access to, or discouragement from applying for, real estate-related credit.
The DOJ alleged that the bank, which, as part of the Settlement, denied any liability, wrongdoing or non-compliance, violated the Fair Housing Act and ECOA by 1) discriminating on the basis of race, and 2) engaging in a pattern or practice of discrimination and denial of rights to a group of persons.
The Metropolitan Statistical Area (MSA) serviced by the bank includes one particular residential area where the population is predominantly African American; the DOJ investigation focused on whether the bank violated the Fair Housing Act and ECOA by "avoiding and otherwise failing, on the basis of race, to provide mortgage credit services" to African Americans living in this area between 2011 and 2017. It found that evidence, including HMDA data, supported a finding of illegal redlining in the majority African-American residential area.
Among other findings, the DOJ investigation determined that the bank excluded the majority African American area from its Community Reinvestment Act assessment area while including overwhelmingly Caucasian counties nearby. The bank also allegedly failed to have branches in and marketing efforts, loan applications, and loan originations from the African American communities, with a mortgage lending policy that emphasized borrower location over creditworthiness.
The Settlement terms prohibit the Bank from using race or other protected characteristics to 1) make marketing and advertising decisions, 2) select branch office sites, 3) assign, train, and monitor loan officers, and 4) determine geographical areas in which to solicit loan applications and generate originations.
Further requirements of the Settlement include extensive changes to the bank's internal compliance and monitoring practices. Fair Lending training and the appointment of a full-time Director of Community Lending and Development is required, along with implementation of a community credit needs assessment regimen, opening a new branch and loan production office in the affected area, and setting aside funds to be spent annually for advertising. Notably, the Settlement also calls for the bank to invest a minimum of $1.12 million in a loan subsidy fund to be used to increase the amount of credit offered to affected residents for home mortgages, refinances and home improvement loans.