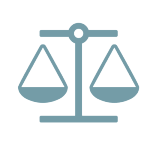 D.C. Circuit Splits on the Constitutionality of the SEC's Appointment of ALJs
On June 26, 2017, the en banc D.C. Circuit split evenly with a 5-5 vote on the constitutionality of the Securities and Exchange Commission's (SEC) appointment of Administrative Law Judges (ALJ's), leaving in place the previous panel decision finding that the SEC ALJ's were constitutional, and creating a circuit split that creates a high probability of Supreme Court review of the issue.
The case was an appeal attempting to overturn a decision by a three-judge D.C. Circuit panel holding that the SEC's appointment of ALJ's did not violate the Appointments Clause in Article II of the Constitution.  The Appointments Clause of the Constitution generally requires Officers of the United States be appointed by the President of the United States, and requires "inferior Officers" to be appointed by the President or the heads of executive departments.
The issue in the case was whether ALJs are "employees" or "inferior officers" under the Appointments Clause.  If they are officers, then there is a violation of the Appointments Clause as it requires officers to be appointed by the head of the administration, and ALJ's are currently appointed through an administrative process.  If they are merely employees, then no constitutional violation occurred.  Because the en banc Court divided evenly, the original three-judge panel decision, which found the SEC ALJ's to be merely employees, is affirmed.
The Tenth Circuit also recently ruled on this issue, but it held that ALJ's were inferior officers under the Appointment Clause, and therefore, the SEC's process of hiring ALJ's was unconstitutional.
Because the D.C. Circuit's decision now creates a split among Circuit Courts, it now becomes more likely that the Supreme Court will review the issue to resolve the split.
The decision can be found here.