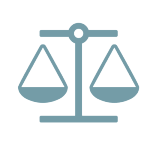 Failure to Make Reasonable Accommodation by Declining to Accept Plaintiffs' Proof of Income Violates Fair Housing Act
The Eighth Circuit Court of Appeals recently held that a policy of requiring particular forms of income documentation was not in itself discriminatory (as pleaded in this particular case), but that failing to make a reasonable accommodation by accepting alternative income documentation from recipients of government disability benefits would violate the Fair Housing Act.
When applying to rent an apartment, the plaintiffs could not provide the forms of qualifying income required by defendants.  Their only income sources were government disability benefits, retirement benefits, and rental income.  The defendant, a property and construction company, refused to accept these forms of income and instead required income proof in the form of pay stubs, an "offer letter," or tax returns.  The district court dismissed the plaintiffs' action for failure to state a claim under the Fair Housing Act and found insufficient evidence of disparate treatment.
On appeal, the Eighth Circuit, in Edwards v. Gene Salter Properties, agreed that defendants' failure to accept the proof of disability income was not evidence of disparate treatment because plaintiffs alleged they were treated differently based on of their form of income proof, not a disability.  Moreover, the court found defendants' conduct did not have a disparate impact in violation of the Fair Housing Act, either.  That would have required plaintiffs' complaint to sufficiently allege that persons with disabilities were disproportionately impacted by defendants' policy of requiring a different form of income proof from the income verification plaintiffs offered.
The court of appeals took a different approach from the district court on the issue of reasonable accommodation, however, relying on the language of 42 U.S.C. § 3604(f)(3)(B), which states that discrimination based on disability may be demonstrated by "a refusal to make reasonable accommodations in rules, policies, practices, or services, when such accommodations may be necessary to afford such person equal opportunity to use and enjoy a dwelling."
The Eighth Circuit held that plaintiffs had sufficiently alleged that defendants violated the Fair Housing Act by failing to make a reasonable accommodation to afford plaintiffs an equal opportunity to offer their proof of income and enable them to rent an apartment.  The court of appeals vacated the district court's dismissal on those grounds and remanded the case to give plaintiffs an opportunity to show that the accommodation they requested – offering proof of disability and retirement benefits, and rental income, rather than another form of income as required by defendants – was reasonable.